Data Privacy
Privacy is our priority
BlazeSQL does not require access to your database records, and can be used with just table names, and column names. This information does not include any actual data rows, and is encrypted before storage. Any information sent to external AI APIs is only temporarily stored in case of abusive or offensive content, and deleted shortly afterwards. For more information on API data usage, see the OpenAI API data policy.

Enterprises requiring more detailed information for compliance purposes can also refer to the Enterprise Data Policy Addendum.

Direct database connections are optional, and any data queried with the desktop version is kept locally and not sent to our servers or any APIs.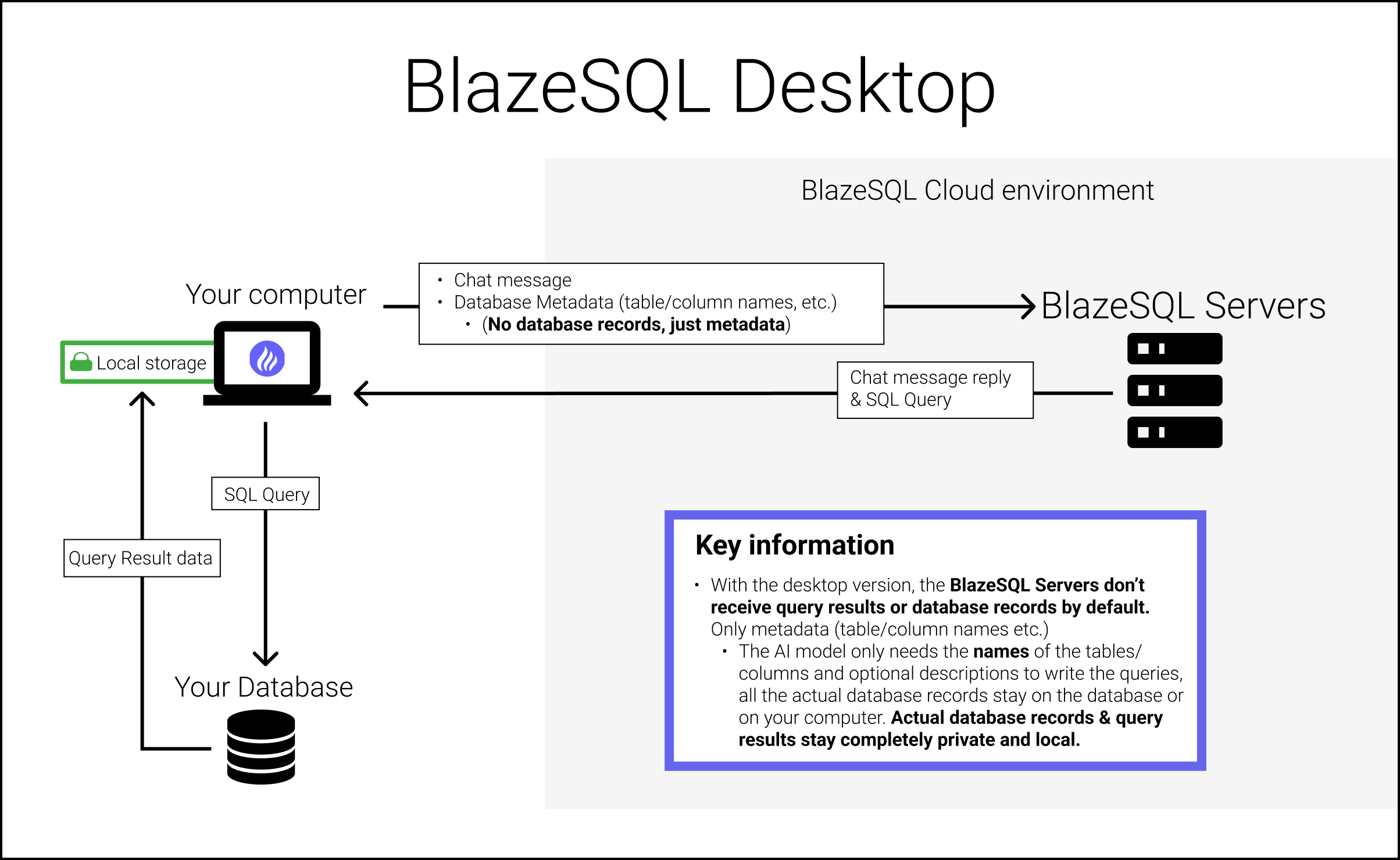 Blaze Analytics Privacy Policy
Last updated: 29.06.2023

This privacy policy explains how Blaze Analytics ("we" or "us") collects, uses, shares and protects the personal information you provide when using our website and AI-based SQL chatbot service (the "Service").
Information We Collect:
We collect the following types of information when you use our Service:

• Login details: We collect your email address and a password for authentication when you sign up for and use the Service
• Name and role (optional): Your name and role, if provided, are used to personalize your chatbot interaction for better results
• Queries and Dashboard Information: We collect the SQL queries you run, the visualizations you generate and any dashboards you create while using the Service. This information is tied to your account.
• Database metadata (optional): Your database metadata (schema names, table names, column names, and data types), if provided, are used to generate queries.
• Database Credentials (optional): Your database credentials, if provided, are used to run queries. Query results on the desktop version go straight from your database to your device, and are not sent anywhere.
• Server Logs: We automatically collect server logs which contain information like your web request, browser type, referring/exit pages and date/time stamps.
BigQuery Databases via Google APIs
Blaze Analytics' use and transfer of information received from Google APIs to any other app will adhere to Google API Services User Data Policy, including the Limited Use requirements.
How We Use Your Information:
We use your information for the following purposes:

• To provide and improve the Service: We use your information to provide the Service to you, including generating the results for your queries and creating visualizations and dashboards. We also use your information to continually improve the Service and features.
• To contact you (optional): We may use your email address to contact you for account-related matters or, with your consent, to send you news and updates about the Service. You can opt out of non-essential communications at any time.
• Aggregated data: We may aggregate and anonymize information from server logs and use it for industry research and business intelligence purposes. This aggregated information does not contain any personal information.
Sharing Your Information:
We do not share or sell your personal information to third parties for advertising or marketing purposes. We may share information with vendors and agents working on our behalf to provide the Service, but only to the extent needed for them to perform their services.
Your Choices:
You have the following choices regarding your information:

• You can request an export of your personal data from the Service in a machine-readable format. We will provide the export within 14 days of your request.
•You can request deletion of your personal information from our Service. We will delete all personal information within 14 days of your request, however we may retain anonymized or aggregated data.
• You can disable certain data collection such as queries in your account settings. Some data collection is required to provide the Service so disabling all collection may disable the Service.
•You can opt out of email marketing communications at any time by clicking the "unsubscribe" link in our emails or contacting us.
Security:
We implement security measures designed to protect your personal information from unauthorized access, use or disclosure. Access to your data is password-protected, and our servers are located in a firewalled, non-public subnet. However, no security measures are 100% effective so we cannot guarantee the security of your information.
Changes to this Policy:
We may update this privacy policy from time to time. We will notify you of any material changes by posting the updated policy on our website homepage. Any changes will become effective 30 days after posting. We encourage you to check our website periodically for the most up-to-date version of our privacy policy.
Contact Us:
If you have any questions about our privacy policy, please contact us at: support@blazesql.com